This Page Lists some of the ORVAG Member Artists
Members who wish to be included on this page should send their information, including a website address if appropriate. (e-mail addresses will only be published by request).
Send to: webmaster@orvag.org
---
Betsy Baltzer

Betsy Baltzer paints colorful cats and abstracts

Mike Enzweiler

Armed with a BFA (major areas of painting & sculpture}, I began my career as a high school art instructor followed by time as a Curatorial Assistant at a major art museum.
As a full time artist, I enjoy creating simple pieces with basic materials. Found or recycled objects have always been a part of my creations.
Affiliations:
Augusta, KY Art Guild
Ohio River Valley Artists Guild, Maysville, KY
Carnegie Visual & Performing Arts Center, Covington, KY
Contact Info
mikeenzweiler@gmail.com
www.enzartist.com
Tom's involvement in photography began over 25 years ago. His interest in visual arts was stimulated during college while taking a TV production class. While his concentration is primarily photographic art and portraiture, he also performs commercial and commissioned work. Tom and his wife, Jo opened a photography business about fifteen years ago.
Tom's philosophy of continuous education in photography is apparent, frequently attending workshops, classes and lectures. He has studied the work of and been influenced by Edward Weston, Richard Avedon, Francesca Woodman, Diane Arbus and Ralph Eugene Meatyard to name a few.
Work is produced using film formats from 35mm to 8×10 view cameras. High-resolution digital cameras are also used for commercial and artwork. Tom maintains total control of his finished product by performing all of his own processing, whether traditional silver gelatin darkroom prints or archival giclee. The artist too performs his own matting and framing.
Tom is a juried member of The Kentucky Guild of Artists and Craftsmen and a member of The Augusta Art Guild, University of Kentucky Art Museum, The Kentucky Professional Photographers Association, Lexington Art League, The Ohio River Valley Artists Guild and The Center for Fine Art Photography of Fort Collins Colorado.
His work is in private collections throughout the world and displayed in various shops and galleries as well as his own small studio. Tom's work is frequently exhibited at a variety of art shows and sales.
Website: www.tomrossphoto.com
Email: trphoto@yahoo.com or Telephone: 606-375-5178

Brian Shirley

I am a keen photographer who has been taking photographs since the age of 11. I tend to concentrate on wildlife, (including flowers and birds) and travel photography
My images can be seen at: http://www.brianshirleyimaging.smugmug.com

Emily Culp Slusher

Graduated in 02′ from Campbellsville University with a B.S. in Art

I enjoy creating art in pottery, acrylics, oils, charcoals, pastels, and photography

I've enjoyed using my abilities to now teach students art in the Buffalo Trace Home School Group

James D. Werline

He has gone from painting rural landscapes that he grew up with to painting very detailed historical landmarks in Washington D. C. and other places to plein air painting, mixed media collages an stained glass.
Although watercolor is his favorite medium, he also paints in oil, acrylics, pencil, pen and ink, and pastels. He states with watercolor, "I have to know five steps ahead of myself what I am going to do…a successful artist works right on the edge of disaster all the time. I enjoy the intensity and challenge."
Highlights of Werline's career which includes 38 years in education, brought recognition to him and Southern State Community College where he taught. Throughout the years he has enjoyed numerous one man gallery shows and been the subject of a local PM Magazine segment on TV. Featured articles about Werline have appeared in Midwest Art, Prints Magazine and various newspapers. His work has been displayed next to Renoir, Andrew Wyeth, John Singer Sargent and other noted artists of the nineteenth and twentieth century's. In 1987, a retrospect of Werline's paintings was exhibited at Art's in Middletown, Middletown, OH. It featured over 100 originals detailing his career from the 4th grade through 1986. He participated in the Second Annual Original Showcase International Show at the Prestige Gallery in Toronto, Canada where his work hung alongside Robert Bateman. President George W. Bush joined James D. Werline and signed his original oil painting of the Whitehouse titled "Twilight at the Whitehouse." An honor always to be cherished when a sitting President signs a piece of his work.
James D. Werline's commemorated both the Kentucky and the Ohio Bicentennial with 12 paintings of historical sites for both events. "Whitehaven," became his first museum painting and is at the Yeiser Art Center in Paducah, KY in their permanent collection.
James D. Werline's unprecendented importance as an artist reveals a power of an element unique to his work: a captivating spiritual quality derived from his softness of stroke and his masterful ability to create timeless, intimate mood through suffusion of light. He continues to strengthen his predominance as a painter specializing in rarefied realism.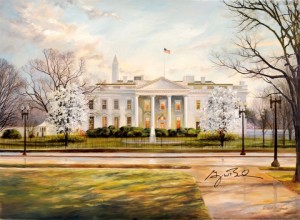 Pam Wiseman

My obsession with mud began as a child. It wasn't until the age of 40 that I began my obsession with throwing clay and I haven't stopped.
I am mostly self-taught, but I have had a few great teachers (thanks Ken) along the way, many great workshops, touring museums, galleries, books, DVD's and just life in general as teachers.
My pots are created to be simple, easy to handle, and to use daily. Pots that are functional just by being in someone's home.
My work ranges from wheel, handbuilding and sometimes a combination of both giving play to some really cool altered works. I sometimes incorporate other media in my clay such as metal and glass.
I have an Etsy website page at pamwisemanpottery.etsy.com/