This Page Lists some of the ORVAG Member Artists
Members who wish to be included on this page should send their information, including a website address if appropriate. (e-mail addresses will only be published by request).
Send to: webmaster@orvag.org
---
Betsy Baltzer

Betsy Baltzer paints colorful cats and abstracts

Mike Enzweiler

Armed with a BFA (major areas of painting & sculpture}, I began my career as a high school art instructor followed by time as a Curatorial Assistant at a major art museum.
As a full time artist, I enjoy creating simple pieces with basic materials. Found or recycled objects have always been a part of my creations.
Affiliations:
Augusta, KY Art Guild
Ohio River Valley Artists Guild, Maysville, KY
Carnegie Visual & Performing Arts Center, Covington, KY
Contact Info
mikeenzweiler@gmail.com
www.enzartist.com
Ric Fornay

Ric has gone from serving his country to expressing himself through his artwork. His preferred medium is colored pencil, but he also works in graphite, pen and ink and watercolor.
Forney was born in Harrisburg, PA , but was raised in the Cincinnati area. He started drawing and painting at an early age. Ric's pen and ink, "Penn-Central," was awarded Best-of-Show out of 30 first place entries during a regional high school art show. This was his first award recognizing his talent.
During Ric's time in the United State Air Force, he did not let his artwork go unnoticed. He entered an international competition to design the Division patch for the US Air Force Commissary Services. His cornucopia design came in second. Later that year, while stationed at Dover Air Force Base in Maryland, Ric won first place for his logo depicting Caesar Rodney on horseback heading to Philadelphia to cast the deciding vote as the delegate from Delaware for the Declaration of Independence for Dover's Bicentenial Celebration.
While stationed in Okinawa, Japan, Ric continued his art studies with correspondence courses. After his honorable discharge in 1983, he continued his studies at the Art Academy of Cincinnati for two years until his GI bill ran out. Over the years he studied various other items relating to his employment at the University of Cincinnati Clermont and also took an art class from James D. Werline.
After retiring, Ric decided to try to locate James D. Werline. He reconnected with "Skip" and his wife, Dee in October 2015. He started doing a sketch a day – his creative juices were flowing. He enjoys his mentoring with Skip. He became a 2016 member of Ohio River Valley Art Guild (ORVAG), the first professional guild he has joined. Ric states on many occasions, "I enjoy being around other artists, listening to them talk about their work. ORVAG continues to be an inspiration for me."

Toby Fried

I started my new life at 57. Long ago I discovered pottery in college and spent hours upon hours in the studio.
Then graduation, making a living, and middle school stepped in.
Teaching 7-8th graders for 32 years took most of my energy, and I did not seriously pursue pottery again until I retired in 2006.
Now it is a passion, sometimes an all day one.
I do electric fired cone 6 stoneware which includes functional ware and my lidded pots.
In my 'gemstoneware' I combine my love of minerals and pottery using polished minerals as knobs for my lids, matching them to glaze combinations.
I also do raku, both naked raku and horsehair.
Occasionally, I do workshops and teach throwing classes at the guild.
I think the continuing joy of this craft is that it can be incredibly fulfilling and relentlessly humbling on the same day.
It took quite some time, and a rather circuitous route, but I am finally able to say, I am a potter.

Karen Fulton

Watercolor artist. Lives near May's Lick, Kentucky
I love to paint the subjects around me. Farm scenes and flowers are often my subject choices.
My main art media has always been watercolor. Pastel, pencil, and permanent markers sometimes are in my studio work.
Because I like both I join them in many paintings. I often work with an unpainted mat to offset the work. Frequently, I do commissions of houses and heraldry.
For the November show I have been encouraged to work with acrylics to create a collection of flowers. I have enjoyed the challenge to work larger and with more color.
I studied the arts at EKU and MSU. I taught art (and music) in the public schools until retiring to the farm.
I am a member of the May's Lick Christian Church (Disciples of Christ), Mason County Homemakers, Ohio River Valley Artists Guild, Augusta Art Guild, KRTA, and Mid-West Tool Association.
Find me at fultonfarm@altiusbb.com or 606-782-6207

Jeanne Grant

Donna Huber

Was born and raised in Ashland, KY. After meeting Dick Huber when he was an Engineering student and when she was a nursing student, they married after graduation and eventually had three children, Travis, Holly, and Carrie.
Donna's love for art started in grade school and continued through high school during which time she studied at the Huntington Art Gallery. Several years ago Dick and Donna moved to Maysville, KY, Dick's hometown, where they continued their construction, Double D Enterprises, Inc. and built a home on their Key Pike farm.
A mainly self-taught artist, Donna joined the Ohio River Valley Artists Guild and began painting again. Since then she has had instruction from Steve White, Skip Werline, Marilyn Lustick, Sandra Moss, Dreama Tolle Perry and other talented local artists.
"Sharing my love of nature and the world around me, as I perceive them, is what gives me so much pleasure in painting."
Tom's involvement in photography began over 25 years ago. His interest in visual arts was stimulated during college while taking a TV production class. While his concentration is primarily photographic art and portraiture, he also performs commercial and commissioned work. Tom and his wife, Jo opened a photography business about fifteen years ago.
Tom's philosophy of continuous education in photography is apparent, frequently attending workshops, classes and lectures. He has studied the work of and been influenced by Edward Weston, Richard Avedon, Francesca Woodman, Diane Arbus and Ralph Eugene Meatyard to name a few.
Work is produced using film formats from 35mm to 8×10 view cameras. High-resolution digital cameras are also used for commercial and artwork. Tom maintains total control of his finished product by performing all of his own processing, whether traditional silver gelatin darkroom prints or archival giclee. The artist too performs his own matting and framing.
Tom is a juried member of The Kentucky Guild of Artists and Craftsmen and a member of The Augusta Art Guild, University of Kentucky Art Museum, The Kentucky Professional Photographers Association, Lexington Art League, The Ohio River Valley Artists Guild and The Center for Fine Art Photography of Fort Collins Colorado.
His work is in private collections throughout the world and displayed in various shops and galleries as well as his own small studio. Tom's work is frequently exhibited at a variety of art shows and sales.
Website: www.tomrossphoto.com
Email: trphoto@yahoo.com or Telephone: 606-375-5178

Brian Shirley

I am a keen photographer who has been taking photographs since the age of 11. I tend to concentrate on wildlife, (including flowers and birds) and travel photography
My images can be seen at: http://www.brianshirleyimaging.smugmug.com

Emily Culp Slusher

Graduated in 02′ from Campbellsville University with a B.S. in Art

I enjoy creating art in pottery, acrylics, oils, charcoals, pastels, and photography

I've enjoyed using my abilities to now teach students art in the Buffalo Trace Home School Group

James D. Werline

He has gone from painting rural landscapes that he grew up with to painting very detailed historical landmarks in Washington D. C. and other places to plein air painting, mixed media collages an stained glass.
Although watercolor is his favorite medium, he also paints in oil, acrylics, pencil, pen and ink, and pastels. He states with watercolor, "I have to know five steps ahead of myself what I am going to do…a successful artist works right on the edge of disaster all the time. I enjoy the intensity and challenge."
Highlights of Werline's career which includes 38 years in education, brought recognition to him and Southern State Community College where he taught. Throughout the years he has enjoyed numerous one man gallery shows and been the subject of a local PM Magazine segment on TV. Featured articles about Werline have appeared in Midwest Art, Prints Magazine and various newspapers. His work has been displayed next to Renoir, Andrew Wyeth, John Singer Sargent and other noted artists of the nineteenth and twentieth century's. In 1987, a retrospect of Werline's paintings was exhibited at Art's in Middletown, Middletown, OH. It featured over 100 originals detailing his career from the 4th grade through 1986. He participated in the Second Annual Original Showcase International Show at the Prestige Gallery in Toronto, Canada where his work hung alongside Robert Bateman. President George W. Bush joined James D. Werline and signed his original oil painting of the Whitehouse titled "Twilight at the Whitehouse." An honor always to be cherished when a sitting President signs a piece of his work.
James D. Werline's commemorated both the Kentucky and the Ohio Bicentennial with 12 paintings of historical sites for both events. "Whitehaven," became his first museum painting and is at the Yeiser Art Center in Paducah, KY in their permanent collection.
James D. Werline's unprecendented importance as an artist reveals a power of an element unique to his work: a captivating spiritual quality derived from his softness of stroke and his masterful ability to create timeless, intimate mood through suffusion of light. He continues to strengthen his predominance as a painter specializing in rarefied realism.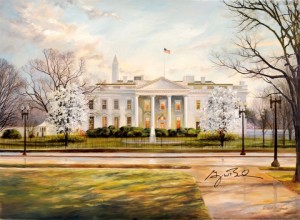 Pam Wiseman

My obsession with mud began as a child. It wasn't until the age of 40 that I began my obsession with throwing clay and I haven't stopped.
I am mostly self-taught, but I have had a few great teachers (thanks Ken) along the way, many great workshops, touring museums, galleries, books, DVD's and just life in general as teachers.
My pots are created to be simple, easy to handle, and to use daily. Pots that are functional just by being in someone's home.
My work ranges from wheel, handbuilding and sometimes a combination of both giving play to some really cool altered works. I sometimes incorporate other media in my clay such as metal and glass.
I have an Etsy website page at pamwisemanpottery.etsy.com/