Ohio River Valley Artist Guild (ORVAG)
has the goal to "support area artists, both with peer group and outside educational opportunities; to promote arts within the community and area; and plan and execute various outreach programs that include guild members, students, and other organizations within the community that would promote the arts and enhance the local environment."  The Guild  has been highly successful in consistently achieving successes in each of these areas.  The Guild is incorporated as a nonprofit 501 (c)(3) association dedicated to promoting the arts in the Ohio River Valley region.
---
Cox Gallery Mission Statement
The Cox Gallery strives to bring together, educate, enlighten, and inspire local artists, patrons, and friends of our gallery with the following activities.

Member Exhibits
Non-Member Exhibits
Student Exhibits
Community Exhibits
Other relevant events and activities

We are committed to bringing quality centered art to the art collector and the local community.
---
Our Locations
ORVAG Cox Gallery  and Studio
2nd Floor
2 East Third Street
Maysville, KY 41056
e-mail address for scheduling
ORVAG Washington Guild Hall
2111 Old Main Street
Washington KY
Telephone
(606) 759 4906 for messages
Mailing Address:
ORVAG, P.O. Box 183, Old Washington, KY 41096
Volunteers
ORVAG relies heavily on volunteers to keep the doors open to the public.
To see what dates are covered or open please view the calendar pages for Cox Gallery or the Washington Guild Hall
Volunteer scheduling is maintained through this web site.  To volunteer please send an email to: gallery.schedule@orvag.org
---
Upcoming Events
---
The Art of Hope at the Cox Gallery
Showcasing expressions of grief through art
Pottery Workshop
Landscape "Dreamscape" Canvas
Passage Quilts
Memory Boxes
Entangle WorkshopPhotography
Opening Friday June 3rd from 5-7pm
On display through June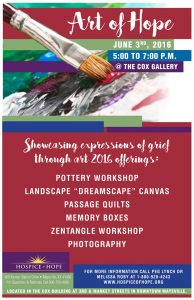 ---
Basic Drawing and Painting
Weekly classes Tuesdays / Thursdays, Starting June 28
Pick either the Tuesday series or the Thursday series
Ages 7 – 12, Taught by Emily Slusher
Learning different techniques, different artistic styles etc.
Contact Emily at dimeslivehere@gmail.com to register
Classes limited to 10 participants
---
Nature Photography in the Cox Gallery
Featuring Photography by Jeff Lebovitz,
ORVAG Camera Club and Guild Members
Opening Friday Opening July 1, 5:00 – 7:00 pm
On display through July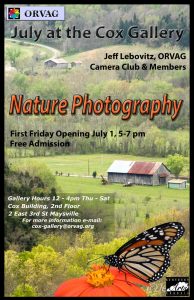 ---
Wine and Canvas Workshop
July 15, 7:00 pm at the Guild
Contact Emily Slusher at 727-608-8140 for details or sign up at the Guild
---
We have many Workshops and Classes Scheduled in the coming weeks and months. Please check out the schedule and contact the Artist to sign up and get additional information.